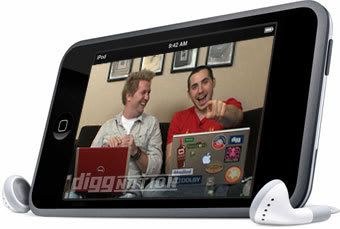 I did end up getting a refurbed iPod Touch and I absolutely love it! It has completely and totally replaced my Palm Zire 72. With the addition of a great to-do list manager: Zenbe Lists, I now have a super-slick, highly-capable PDA replacement.
I opted for the 8GB model, which I bought from the Apple store for $199. That's $100 less than retail and near as I can tell, it was a brand new model and not a refurb. Apple was most likely clearing out inventory to make room for the 2nd generation of iPod Touches that came out last week. I also bought an awesome carrying pouch from Golla, a clear case from Griffin, and a snap-on external speaker so I can listen to my games and music w/o headphones.
Speaking of games, this thing is AWESOME for games! There are so many great games and a lot of them are FREE. I'm a big fan of Chopper, CannonGame, Asphalt4, and Sudoku. I also got two free Bible apps (both of which don't need a wifi connection), and a cool little grocery list app. SplashID is an essential app for keeping all your passwords and log-in IDs safe and secure. It works via WiFi with your desktop for synchronization.
Since getting my iPod Touch, I've discovered that WiFi is EVERYWHERE. I can routinely pull out my iPod and connect to an open network and surf the net or send out a Twitter. Also, since getting my iPod Touch, my wife became very envious of it. So, since her birthday was so close, I got her one too! She loves it too, and is also replacing her Palm Zire 22 with it. I thought for sure she was going to love the free Sudoku app I installed, but lately she's been hooked on Cubes Lite.
If you're looking for an iPod or PDA replacement, I highly recommend an iPod Touch, especially one of the newer models. I almost wish I had waited an extra month and half, because the new models have a built-in speaker and volume controls mounted on the side. It is a bit of a hassle to have to double-tap the home button to wake it from sleep, then double-tap again to get the music controls so I can turn down the volume. You could sit around and wait forever for Apple to introduce the next iteration of a product, never knowing if the features you want will make it, so I'm glad I went ahead and got one. I'm more looking forward to all the cool apps and games coming this year!